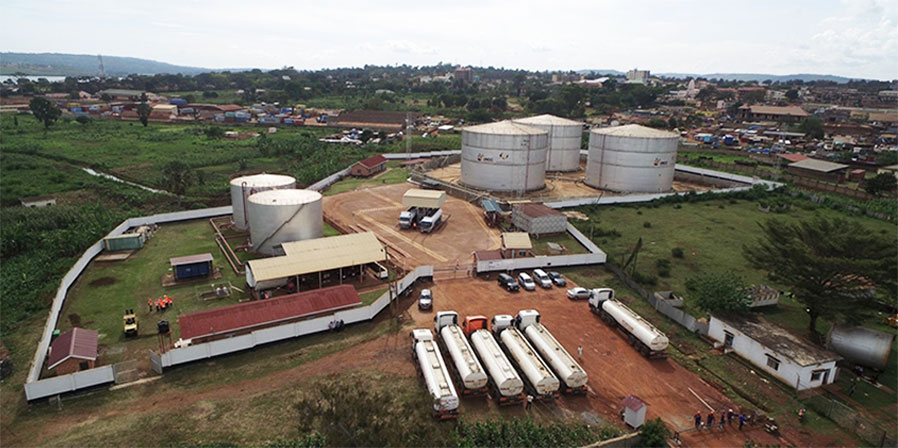 UNOC through its wholly owned subsidiary, National Pipeline Company (Uganda) Limited (NPC), will develop, manage and operate storage terminals, and also hold national strategic fuel reserves to ensure security of supply. We currently manage and operate the 30 million litre capacity Jinja Storage Terminal (JST) in eastern Uganda and have completed a master plan for the the development of a 240 million litre capacity Kampala Storage Terminal (KST) in  central Uganda. Our long-term strategy is to develop storage terminals in other regions of the country.
Jinja Storage Terminal (JST)
UNOC took over the management of Jinja Storage Terminal (JST) in June 2017 and quickly entered into a Joint Venture partnership with  M/s  One Petroleum Uganda Consortium (OPC), to operate the facility. The Terminal is fully functional following extensive refurbishment, with a storage capacity of 30 million litres of petroleum products. Plans are underway to further enhance business processes at the terminal and increase its contribution to security of  supply in the  country.
Kampala Storage Terminal (KST)

300 acres of land have been acquired for the development of a storage terminal near Kampala City and a master plan for the terminal has been completed. The Kampala Storage Terminal (KST) will receive, store and serve as a central distribution terminal for refined petroleum products from the proposed refinery based in Kabaale (Hoima). It will also serve as a central hub for the development of regional pipeline infrastructure for refined products. This project will be implemented through strategic partnership.
For more information, please contact: info@unoc.co.ug